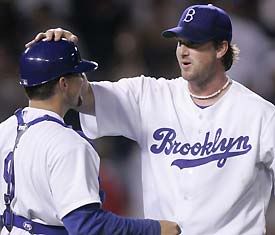 MLB.com writer Barry Bloom makes several interesting observations in his latest piece on the LA Dodgers:
During a year in which the Dodgers are honoring the 50th anniversary of the 1955 Brooklyn team that defeated the Yankees to win the World Series for the first time, the 9-2 start is the second best in franchise history. The '55 Brooklyn (Trolley) Dodgers opened 10-1. The home start is the best since 1950. How's that for neat symmetry?
Meanwhile,
The Dodgers have simply defied baseball logic. They opened the season without starting left fielder Jayson Werth, starting pitcher Brad Penny, and Eric Gagne, one of the preeminent relievers in Major League Baseball. In the ensuing two weeks, they've also had little production out of free agent signee J.D. Drew and first baseman Hee-Seop Choi, who are batting about a buck-fifty apiece.

Still, newcomer Jeff Kent is hitting .415 and has been smoking up the league with four homers, 13 RBIs and has also scored at least one run in 10 consecutive games. And the Dodgers, who opened the season with new players at six starting positions, are making a mockery of a thing called chemistry.
Sound familiar?
Even Dodger Blues is sanguine:
The sun rose. There was traffic on the 405 freeway. Michael Jackson touched a boy. And oh, yeah... the Dodgers won. What's new? Winning for the 12th time in 14 games on Wednesday night, the Dodgers have become very good at doing two things: (1) never giving up, and (2) badly, badly fooling fans into thinking that they're never going to lose again. We know that #2 is true because we're fooled. We admit it. We'd like to say something like, "They may be winning now, but you've got to prepare yourself for the day when they begin to tank," but right now we can't even bring ourselves to write it. While we know deep down that they're not this good, maybe good has nothing to do with it. After all, the 1988 Dodgers weren't good. For Christ's sake, their shortstop hit .199. The team sucked. But they won. Sure, it's a little early to compare the 2005 Dodgers with the 1988 Dodgers, but you can't exactly compare them to the 1927 Yankees either. The fact is, they're starting the season better than any team in L.A. Dodgers' history. And not only are they winning, but—dare we say—they're exciting to watch.
Wouldn't it be great if the classic teams--Dodgers, Red Sox, Cubs, Tigers--are really returning to their former glory?