Nothing But Greenery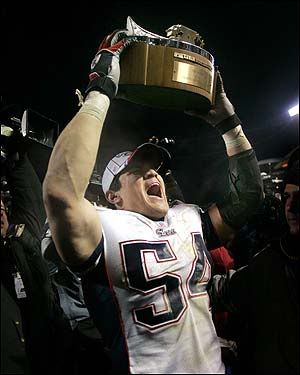 Approximately four seconds. Give or take a few fractions of a moment.
That's how long it took Tom Brady, protected by the fortress of his offensive line, to scan the field, cock his arm, and unleash the bomb that would devastate Pittsburgh.
David Givens, Brady's first read, was running an inside route about ten yards away, in the thick of the swarming Steeler linebacker corps. His second was shadowing Givens another ten yards away, and was similarly pursued by the Steelers' secondary.
Sixty yards downfield, Deion Branch was motoring toward the end zone.
Brady patted the ball. He looked left. He looked right. He caught the attention of the Steelers linebackers balanced on tiptoe, pausing to follow his eyes over the chaos in the trenches at the line of scrimmage. And then he looked right again, toward Givens, who was struggling to get open.
The linebackers bit.
Before he even looked back, Brady's arm was in motion, releasing a towering Hail Mary pass downfield. Without even looking back to check on Branch, he delivered a pass priority air-mail, hitting No. 83 in stride for the touchdown that drove the first stake through the heart of the Steel City.
This single play was the portent that told Patriots fans who might have bought into the hype about the Steelers' defensive strengths, their rookie phenom quarterback, their ravenous fans, to sit back and relax. This was the turning point, the subtle moment where Tom Brady once again rose above his counterparts on the field and delivered when it mattered.
It wasn't even so much the fact that the pass was such a Kodak moment--spinning out of the sky as if dropped from the clouds, whistling into Branch's outstretched hands as he pulled just a step away from his defender--it was the finesse, the sheer, raw ability involved that is so often overlooked in Tom Brady.
Because Bill Belichik and Charlie Weiss can draft the scheme. Givens and Branch can run the routes. The offensive line can block. But when it comes down to that four seconds, and the choices there are to make--Givens or Branch? Ten yards and a first down, or 60 and a touchdown? Average or brilliant? Enough or above and beyond? There is no one in the spotlight but Tom Brady, alone in the pocket, reading the field.
There is an element there that can't be coached, or taught, or manufactured. There is an almost diabolical cleverness to the way Brady deliberately looked the linebacker toward Givens, baited him, faked him with nothing but his face. And then launched that pass without hesitation--knowing he had his man, knowing his own ability, having absolute confidence in his knowledge of what was unfolding.
For a quarterback, the game is little more than situational ethics. Everything is relative. Peyton Manning, after all, is sitting at home after breaking the record for touchdown passes in a single regular season. Tom Brady has thrown a fraction of Manning's number of downfield bombs, but it is their context, not their volume, that makes them great. And making those split-second moves in context is what Tom Brady is, what he means to the franchise and the fans of New England, and the game itself.
Still, if the post-game press conferences are any indication, it's not catching on. And as reporters tossed out careless questions toward the pinstripe-suited Brady, he seemed more perturbed behind the microphone than he ever had behind his tackles. One question in particular seemed to offend him--something along the lines of "how is it that you can function under the pressure of the playoffs?"
Brady stopped. He lowered his eyes. His congenial smile faded. "How is it...that I can function." He repeated quietly.
Some people still don't get it.
I, on the other hand, will never doubt him again.
Of course, as those in the Patriots organization will tell you endlessly, it's a team sport, a team effort, and no one player can carry the day. And this is true. Because while Brady's contributions were phenomenal, they were complemented by the performance of Corey Dillon and the defense, which proved good for four turnovers. Including an 87-yard interception return for a touchdown by Rodney Harrison.
And so in the midst of it, though it was clumsily phrased, the question had a measure of validity. What is it?, the reporter was trying to say. What is the one factor, the one nugget of truth, to be gleaned from all this, from your performance, from your existence?
The answer remains slippery and elusive, and may only become clear once No. 12 and a soft-spoken head coach have long since hung it up. In the end, there are probably many answers. But the question, at the moment, is what it's all about. Until it's understood why the Patriots do what they do--without the customary explanations for football dominance, mainly revolving around the presence of multiple indespensible marquis players--it may go unacknowledged that they do it.
For fans and gamblers, some of whom, but not all, are the same people, part of enjoying football is the art and science of prediction. Point spreads, picks every week, who's favored, the over-under, whether to take the points...the Patriots defy all that. They are a reliable winning machine, but how they tick remains unclear. Statheads are loath to trust that which they cannot quantify.
But for a fan such as myself, it's something I'm coming to terms with quite nicely, thank you. Of course, I have my own theory, which is plainly that Bill Belichik and Tom Brady are the best coach-quarterback pair ever to suit up for an NFL franchise, and that they will soon be recognized as such. They are a twin miracle, and for now, before they get their due, I have only to be grateful that they have manifested themselves in my hometown's colors.
And to live in the now, in the immediate, the way Belichik does. One spectacular game at a time. To take a small lesson from Rodney Harrison, in his press conference, where he answered the question, "Did it surprise you that there were no Steelers around you when you walked into the end zone?"
"It was just smooth sailing," Harrison said. "It felt good for once to see nothing but greenery."
That's where the Patriots are right now. Smooth sailing--no one around. Passing them all into nothing but greenery.