You Can Find Me in St. Louis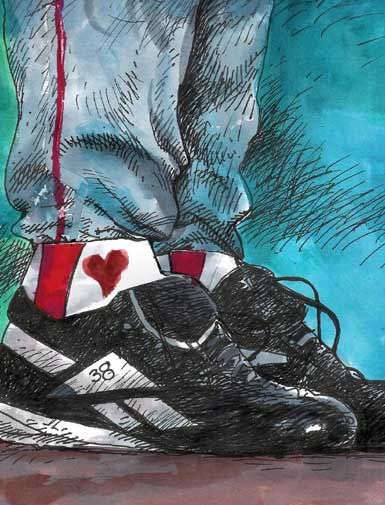 Sarah called me yesterday afternoon from the tarmac at a New Jersey airport. Having risked her job to come out to Boston, she now found her flight sidelined due to weather concerns with just an hour or so to go before game time. Not sure what those concerns were, since throughout the night the worst weather in Boston was a spitting mist and general clamminess. Sarah didn't know either, but we both agreed it was better to be safe than sorry--although after all she's gone through just to be in Boston during the World Series, my heart goes out to her after her plans got derailed.
I didn't hear from her after that, so I don't know whether or not she ever reached Kenmore Square last night. I hope to God she did. Either way, she's another addition to the prayer list.
And now here I sit this morning after another Sox win over St. Louis--an eerie-looking game played in chilly mists, with the alien sight of baseball players breathing smoke in the cold--struggling to verbalize at least two things: the conflicting thoughts in my head as to how the Series will play out from here, and precisely how I feel about Curt Schilling.
To tackle the first one, here are the pros and cons as I see them.
Pros:
1) The Red Sox have taken two at home, which is incredibly important since they have home field advantage in this series;

2) The Red Sox have overcome a boatload of errors and blown leads to do so;

3) The vast majority of the Red Sox' runs so far have been scored with two outs; all of their runs yesterday scored with two outs. This shows the Sox have been, for the most part, smart on the basepaths and clutch at the plate, and / or that St. Louis' pitching hasn't been able to seal the deal, either of which is good for the Red Sox;

4) Pedro Martinez is slated to pitch in St. Louis, which I'd much rather see--hoping it'll be warmer--than him left out there to wither in the 40-degree damp here in Boston;

5) The Red Sox have won game 2, which in my amateur theory of post-season play, is paramount in most playoff series (excepting, of course, the ALCS this year, which I'll get to in a second). I have said since the postseason began that whoever wins Game 2 is the most likely to win the series, regardless of the outcome of game one.

This is because, from my highly un-scientific viewpoint, a Game 2 has the largest effect on momentum between the teams. Let's say Team A wins Game 1. If they lose Game 2, they lose their winning momentum and Team B has proven that they can overcome defeat in the first round and take a game for themselves. It also means that Team B may have paced itself out of the gate, but is capable of digging in for a long haul, which favors it in the final outcome of the series.

But let's say Team A wins Game 1 and Game 2. Now they have shown that they can defeat Team B in consecutive efforts, and build their confidence and momentum for the rest of the stretch. In my mind, a team winning Games 1 and 2 is the best-case scenario: they're halfway to victory as early as possible, and have shown some consistency.
However.
This is where my cons come in.
Cons:
1) The Red Sox have committed more errors than I really care to think about. If it continues, that St. Louis lineup will hammer us without mercy, and we could have not just one but many Billy Buckners to vilify over the coming winter.

2) In this year's postseason play, the Cardinals have been 1-5 on the road and 6-0 at home. Bad news: we're now heading to St. Louis.

3) As we have just witnessed in the ALCS, an early series lead means absolutely nothing. The Sox were ahead 2-0 in 1986, too.

4) Pedro Martinez will pitch the first game on the Cardinals' turf; given that he tends to give up homers in his first two or so innings, and given that the St. Louis lineup has been all too quiet for the first two games, look for Pete to get lit up like the proverbial pinball machine.

5) Wake, heading into the St. Louis stretch, does not inspire particular confidence after his first outing. Sure, we still pulled a win out, but after his fourteen-walk, sixty-error fourth inning (okay, I exaggerate slightly), and after the Cardinals have overcome his novelty factor, he, too, will probably become the human Christmas tree.

6) Who does that leave? D-Lowe. Following Game 7, I would be loath to question his clutchness. However, this does not mean that the Force of the Sinker will be with him. If his sinker is working, he will get ground balls, and if our defense is working again--for a change--he will get ground ball outs. These are very big ifs.

7) Still, if any pitcher is going to win in St. Louis, it's probably going to be Derek, provided our bullpen holds up. Which would be great--I'd consider even a single win in Busch Stadium to be a victory. However...

8) It is unclear whether Curt Schilling can pitch again this series. I know. This makes me want to cry, too.
Speaking of Curt Schilling and wanting to cry, it was clear throughout his six-inning, four-hit, no ER (that's no ER, let that sink in) effort that he was in excruciating pain. Like Derek, Curt has a forehead-swipe routine that shows when he is in distress:
...and he was doing it from his second pitch on last night. Sure enough, the blood began seeping through his sock again like the sign of the Stigmata (prompting Tim McCarver to remark, in the single most shocking moment of sheer stupidity I have ever had the misfortune to witness, that the bloodstain was "in the exact shape of the state of Oklahoma"), as Renteria, the first hitter, fouled off so many pitches that by the end of his at-bat I was personally and irrationally angry with the man for making Curt throw so much.
Between innings, Curt did one of two things: huddle with his hands over his ears, head down, mouthing prayers; or stare out at the field with eyes much more wide than normal. In the past, Curt has waited in the dugout like a machine waiting to be switched back on again. His last two starts, however, as trainers scrape out his spikes or the camera zeroes in on the red stain marking his sock (as well as the words "K ALS" on his shoe near the stain in silver marker), have seen him wracked by innumerable emotions and sensations, deeply human and vulnerable.
I tell you, at least as far as Schilling is concerned, whether or not the Sox win now is completely immaterial. That man will take a place next to Fisk, Bird, Brady, Yaz, and so on in Boston, and well he should. The fact that he has been willing to put so much on the line--his career, his body, his health, his livelihood, not to mention his pride--for his teammates and for us is something so immensely meaningful to me that I still have difficulty fully figuring out what it is I want to say about it.
I guess "thank you" is close, although, no cigar. It'll just have to do for now.
_______________________________________________________
P.S.Second installment of my email exchange at All-baseball.com. There have been some issues with this, and I'm not sure where it'll go from here, but for now there's another episode.